I'd like to talk a little about R.A.K..or random acts of kindness. This is something I feel is very important..especially if you are a Christian like myself. In today's world, there are so many people who need to be uplifted. Whether going through some type of struggle, or just everyday life, we all need some encouragement now and again. This has become even more evident since becoming a new mother. My love for my child and my family grows more and more each passing day. But with taking care of my family's every day needs (because its truely what I want and long to do)..sometimes my own basic needs are not fulfilled. Thats when I feel I need encouragment. Nothing major, mind you, but if someone stopped what they were doing in their own everyday life and tell me, "Hey..you're doing a great job!"..its something that would make my day. Probably even make my month!!
You see, its the little things that matters most. Whether its a compliment, a smile from a stranger, a pat on the back, an encouraging phone call, a neighbor who cooks a meal 'just because', someone who holds the door open for me when my arms are full..you see..it can be a multitude of different options. What I'm striving at is this, we all need this every now and then. And if we're Christian, we should
want
to reach out to others with an encouraging and uplifting spirit.
So this is my challenge:
Do something!! Whether big or small..do something encouraging/uplifting/thoughtful to a few of your friends/neighbors/relatives. Whoever God puts on your mind. Go out of your way and make a little bit of effort to do something to brighten someone's day. And then..ask them to pass it on. Let's try to get a chain of encouragement started!!
If YOU have been "TAGGED" in the R.A.K challenge and you blog or have a website, after you have received your R.A.K and have passed it on to a few others, write about it and use this button below to let us know your story and if you wouldn't mind..leave me a comment below so I can read your uplifting story! Encourage others to visit my blog and this post in particular to learn more about the R.A.K challenge so we can get people participating and involved!
The world would be a much better place if we were all seeking to do some kindness each day!!
I look forward to reading your stories! Thanks for listening!!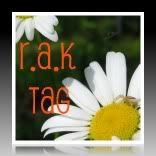 <div align="center"><a href="http://countryroads-melanie.blogspot.com" title="Country Roads"><img src="http://i877.photobucket.com/albums/ab338/wvmel78/raktagbutton.jpg" alt="Country Roads" style="border:none;" /></a></div>