I'm a huge fan of
Pinterest
, for many reasons really. Craft ideas, homeschooling ideas, home decorating ideas...
And some pretty awesome recipe ideas!
I have more pins related to food than anything else. But, for
me
, I am more apt to try new things in our menu rotation. I know some people say they pin a lot but don't actually try the recipe (or craft, or whatever)! People..try out some new things!! You might be pleasantly surprised!!

Last week I tried two new soups on my family. First was
lasagna soup
. It was super easy and hubby loved it! Score! The only thing I would do differently is add some mushrooms next time around.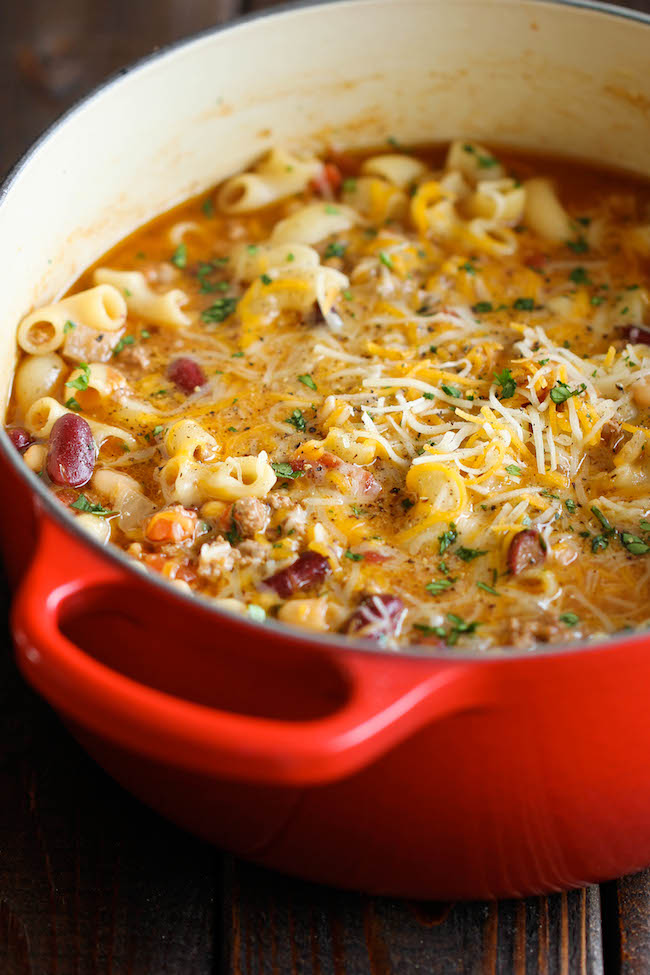 We also tried
chili mac and cheese
. Oh boy, this was a HUGE hit guys! Damon took one bite, looked at me, and said in a voice you
know
he meant it, "This is
good!
". Its a cross of chili and mac and cheese (in case you couldn't tell from the title..ha!). I added at the end a little bit of cubed velveeta cheese. It was beyond awesome and will be a staple around here from now on!
This week I have made a baked steak and gravy (not a recipe from Pinterest but one hubby shared with me on facebook). It was definitely good, but a little heavy on the onion side. I would have preferred mushrooms. Can you tell we like our mushrooms around here?
Also something I make regularly (and I 'think' I got the recipe from pinterest) is crockpot baked potatoes. Guys, if you haven't made these, you should do it and now! All you do is wrap your potatoes that have been coated in oil (I use olive oil) and sprinkled with salt in aluminum foil and put them in the crockpot! I do mine in a combo of high and low heat (probably 2 hours of each?)..but you seriously can't mess it up. Just check them every now and then by inserting a knife in one to see if its tender. So easy and so good! And a great alternative in the summer months when you don't want to heat up the house by using the oven to bake potatoes! We had them on sunday for dinner. Smothered with broccoli and cheese sauce, topped with bacon! You might of seen the picture on facebook if you follow me on there!
Later this week, I'm making some
taco soup
, courtesy of my friend
Natalie
over at She Builds Her Home! I can't wait to try it!
Up new next week,
Sausage Potato Spinach Soup
and another recipe I found on Facebook, it's a Spicy
Italian
Crescent Ring!
My only thing with Pinterest, and I have to admit I just thought of this, is they need a check mark system on it! So you can check off recipes or crafts that you have tried! If they did, you guys, you would see a lot of check marks on mine!! I encourage you to try something new today, whether its from Pinterest or someplace else! You never know when you might find a new favorite! :-)