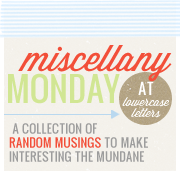 one.
its been a long time since i've done a miscellany monday. ive missed it!!! here's to hoping i can get back on the 'mm' bandwagon!
two.
me and makayla went to vacation bible school this morning. so much fun!!! she enjoyed herself so much she pooped on one of the church ladies..ha!
three.
its so hot here. i can't wait for fall weather. anyone with me?
four.
i can't get enough of my baby girl. she makes me smile when im sad and makes me happier when im already happy. and she's so darn cute. we keep buying clothes for her even though she has a closetful already. anyone else have this problem? little girls clothes are so hard to pass up!
five.
i really want to get back into cooking like i used to did. i know its different when you have a baby in the house..but i miss planning out meals and making nice things for my family. hopefully i can find a bit of a routine so i can get back into it..its what makes me..me!