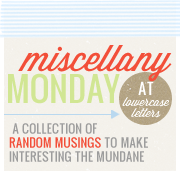 Happy Miscellany Monday everyone!!
Just got home from helping out at vacation bible school down at our church. Its so much fun helping out in the kitchen w/my church family..making sandwiches for the kiddos!
One of those days when you don't know if its going to rain one moment, or be sunny the other. I'm hoping for some sunshine..have a load of clothes that needs to get dried outside!
Our pear tree out back is so loaded with pears..one of the limbs is LITERALLY touching the ground! I'm hoping to can some "pear honey"with some..anyone have a good recipe using pears?
Me and Damon watched Shrek 3 last night on tv. We just love animated movies and can watch them over and over again (we've seen all the Shrek movies countless times). I just love a good laugh!
Found out today a lady I go to church with "cleans" her trash..don't ask..I couldn't explain it if I tried! ROFL!
My mind is completely blank now..so I guess my miscellanies just ran out..have a great monday everyone!!!