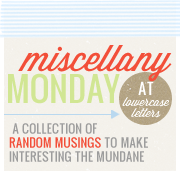 ~ONE~
I am SO MAD at Hobby Lobby!! I went in on saturday with the intent on purchasing Makayla's cutie little lamp I found weeks ago but low and behold their flyers in the store didn't have the 40% off coupon printed on it..you had to print the coupon yourself from home. ARRGG! There was no way I was going to pay full price (hello 50 bucks) for it so I had to let it go. My new plan, print said coupon, give to my mom, let her pick it up next time she's over that way..since yeah..I probably won't be seeing a Hobby Lobby for quite a while now that Makayla's arrival is right around the corner. I'm still bummed.
~TWO~
Damon caught a couple trout in the creek by our house last week. Yay! I was so glad he got to have some fishing fun for himself..he rarely gets to do that. Here is his great 'catch'..other than me that is...ha!
~THREE~
While out on saturday, I got quite the pampering!! New haircut (which I'm still
adjusting to) and my very first spa pedicure!! Oh happy day!! I loved the pedicure and can't wait to do it again..whenever that may be! My hair..well..I was expecting to have a little more, length-wise, than what I was left with. My fault for not paying attention to the stylist when she showed me how much she was going to take off after I showed her myself how much I wanted off. If that makes sense. :-/ Anyways..its not too bad and I found today that I like it best styled curly..or au naturel for me! What do y'all think?
And my cute pedi!
~FOUR~
Since it is springtime..thought y'all might like to take a sneak peak of my hanging flowers on my front porch! I picked them up a couple weeks ago when I went out w/my mom to get Mother's Day flowers and meet with a pediatrician for Makayla. I have 2 on my front porch that are identical. The large pot we just bought over the weekend to transplant my 'hair' into. Yes..I said 'my hair'. I don't know what this thing is called..but I always said it reminded me of my hair..long and thick and slightly wild! The planter box we had it in before was quickly rotting away..so a large pot was in order. I like it much better this way!
Hope your having a wonderful monday!!