My blogging has definately not been up to par this week..with so much going on like getting Makayla's room painted (finally!) and the baby shower plus a doctor appointment..its been pretty crazy round' here! Just thought I'd give y'all a little update on things before the weekend is in full gear!
Makayla's room IS painted!! Hopefully sometime next week I can do a bit of a 'reveal' to let you guys in on how its looking thus far! We had to stay out of her room for a few days after the painting (dear mom and dad tackled the painting for us) due to the smell..even though it was suppost to be a low odor type paint. I'm just now getting around to getting the tape off of the trim! Oh and btw..we went with 'poetic princess' by Behr in case your wondering! ;-)
Baby shower was tuesday with lots of fun, food, and presents!!!! I have half the stuff I got stacked in the living room, and the other half in the spare room. Its quite the mess around here! But I got alot of wonderful things as you probably could tell from my baby shower post!
Today was my 32 week dr appointment..and it went well! My blood pressure was better this time around than last (thank goodness)..the heartbeat was strong and sounding just like it should..AND..she's turned head down!! Guess all that movement I've been feeling lately has been her getting into that position!
The traffic in Charleston today was a NIGHTMARE to say the least! I thought I was going to cry at one point I was so frustrated! We had a 5-10 minute period of heavy rain when I was coming out of the drs office and it created chaosis everywhere. There was a wreck on the exit ramp I needed to get off of..so it was closed and I had to go down the interstate a few miles to get off at another exit. Once I got down there and was headed in the right direction..they had THAT road closed off! So I ended up going into a part of town I hadn't been in before (save one time we went yard saleing in the area) and thought for sure I was lost! We finally made it back to where we were going! But I think I probably sprouted a few more gray hairs in the process!!
I took back a few baby items today and exchanged them AND used a target gift card I had! Picked up the boppy pillow, an umbrella stroller (hello $10 @ Target!), some baby wipes that I can actually USE (I'm allergic to aloe vera..hard to find wipes that don't have that in them!), a changing pad and cover AND the big purchase (I had some money to help pay for it)..a stroller/car seat combo! I finally have a car seat..yipee!!!! I can't wait to get it in the car! This is what I got....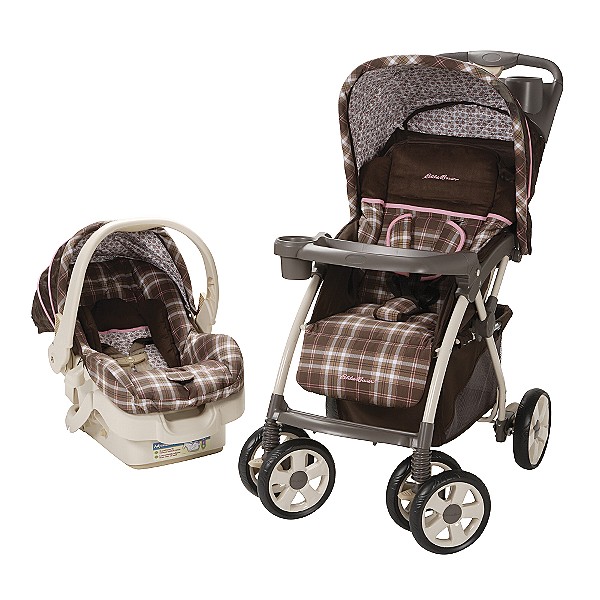 And last but not least, tomorrow is looking to be another fun day..I'm going to a big yard sale thats suppost to have 30 families participating!!! I'll let ya know how that goes..hopefully I can find some great baby items, and whatever else might strike my fancy! ;-)
Have a fun and safe weekend everyone!!