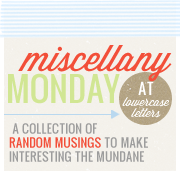 First I want to say Happy Valentine's Day to everyone out there! A day filled with pink hearts, pretty flowers, sappy cards..whats not to love? Hope everyone has a wonderful day with their significant other whether its your hubby or boyfriend! And if your single..I know this isn't the greatest of holidays to want to celebrate..but you can find the good in what you love most about your life and celebrate that!!
Did everyone have a good weekend? Sure hope so..mine was filled with getting things done (like taxes and cleaning..lovely!)..being with my guy (awesome!)..and spending some time OUTSIDE! Yes..I said outside!! We had some great weather yesterday for the first time this year..temps were in the 60s and it felt great! Getting outside and walking the dog..visiting w/neighbors..and seeing some of the first signs of spring was a great break from being couped up in the house. I do love winter..but everyone needs a breath of fresh air now and again! Was very thankful for that yesterday!
Another thing I'm thankful for (this is turning into a 'thankfulness post' isnt it?)..Damon fired up the grill yesterday and made some of his HUGE burgers he's known for! Oh yummy day!! He comes up with some great ideas of things to stuff into the burgers. Case in point, yesterdays burgers had mushrooms and olives mixed in! They were REALLY good too! Here is a picture I took of my burger..after a couple of bites, of course! ;-)
One of the things we accomplished over the weekend was buying and putting together a wardrobe closet for Damon's clothes! We needed to get the closet cleared out in Makayla's room so that was the solution. Got to say..the wardrobe looks pretty great in my sewing room too! Here is Damon putting the finishing touches on it...
Today I'm 25 weeks pregnant! Time is really going by fast! Here is a picture of me from the other day...
And last but not least..while in the middle of doing this blog post (which btw is my 200th post!) I got the dreaded phone call from my doctor's office. I really need y'alls prayers. They said my blood glucose test came back slightly elevated and they want me to come back in for some more tests on wednesday of this week. She said it was only slightly elevated and could have been caused by something sweet I had the evening before my test (it was 7 points higher than what they would have liked)..so no sweets for me until I get this done. Pray my results come back normal this time!!!
Until tomorrow, happy Monday to everyone!