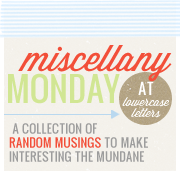 1. Its been quite some time since I've done a miscellany monday so I figured it was about time to get back into it again! Alot has been going on this weekend (well not really..it just seemed like a super busy weekend!). Damon had the weekend off which was GREAT! We went out friday and just lounged for the rest of the weekend (except for church on sunday). LOVE!
2. I got in both of my Christmas cards I ordered online before the weekend hit..which is what I was hoping for so I could get them all fixed up to be mailed today. Still have to say..after ordering from both Shutterfly and Vistaprint this year..Shutterfly still is a total winner in my book. They are faster and I just like everything about their site better.
3. Its official..all my Christmas decorations are UP! Can we get an applause?! LOL! I can just imagine how much time it will take next year when Makayla is walking and getting into everything!
4. Laundry is caught up..most of the housecleaning is done..we're dressed and ready for the day..all before NOON! Great way to start off a monday, wouldn't you say?
5. And before I forget..today is the last day you can enter my giveaway for the 1 year subscription to Paula Deen's magazine! Its GREAT y'all..I've been a subscriber for years and just love her recipes! So don't wait any longer and go
here
to enter TODAY! Winner to be announced tomorrow!
Happy Monday everyone!!