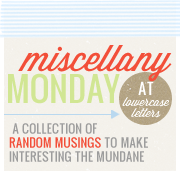 ~One~
What a nice weekend we had! Damon was off, which was great, so we had plenty of time to spend together without having to feel rushed around. Friday was spent relaxing, as I had a rough day on Thursday and hadn't slept well the previous 2 nights. This momma-to-be needed some rest! We just hung out at the house all day and it was warm enough to eat out on the picnic table! That was fun in itself, since I fixed a quick meal of pasta and meatballs and our dog, Blaze, LOVES pasta! So she was begging the whole time we ate..and of course we gave in and she had a nice meal too!
~Two~
Saturday was the fun day! We went out to Beckley and did some Christmas shopping!! I finally got a good start on my shopping and even got one name crossed off the list..score!! I got Damons birthday gift bought..and my mother in laws..double score!! I just dread getting the house decorated for Christmas this year..I'm gonna need Damon's help more than ever! I have ALOT of Christmas decor! Garland galore..the tree..lights..village. But its worth it once its all up! :-)
Sunday we went to church. Great service! We had a special program dedicated to Veteran's Day and it was so great. Our pastor even tied in the theme to his sermon..how we are soldiers for Christ!! After coming home and fixing breakfast for dinner (yum!) we both napped for hours!! Nothing beats a sunday nap!
I have my 12 week doctors appointment tomorrow..remember me in your prayers! I've been a bit anxious about this one since I'll probably find out the results of my bloodwork that was taken last week. Just hoping I'm ok..and little Baby Green!
And last but not least, my dear bloggy friend Kristin is hosting Fashion Week over at her blog,
Windy Poplars
. I hope to take part in a couple of days..it looks to be alot of fun! Today's theme is what you wear to work. Since I don't work..I couldn't rightly participate..but I AM looking forward to shoe day and hanging out with your girlfriends day! So go on over and check it out this week ladies!! Maybe we can inspire one another! ;-)