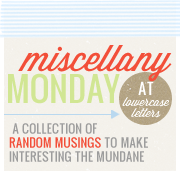 Good morning everyone!! Hope your weekend was a good one! How about a little of this and a little of that for your monday?
~ONE~
My dear hubby, Damon, starts a new job today!!!!! We are SO excited and I'm so very proud of him for holding out and waiting for the opportunity to come in God's timing. :-D He's still working in the mines, for the same company, he'll just be back underground like the 'old days'. His pay is going to increase (yay!), our health insurance will be better (double yay!!!), and he'll be in a union!! It couldn't have came at a better time, with baby on the way and me having to go to the doctor alot. God is good!!
~TWO~
Now for a complete 360..did anyone watch the Golden Globes last night? I LOVE watching most big awards shows..but not so much for who will win this or that..but for the beautiful fashion! Such gorgeous gowns, jewelry, and shoes..whats not a girl to love about that?! Here are my favs for the night:
(Wow..I want THOSE shoes!!)
(Loved Tina Fey's jewelry!)
(Eva's dress was probably my favorite of the night..though this angle doesn't show off the pretty jeweled side accent)
(Catherine's dress came in a close 2nd as prettiest for me..love the green!)
(Favorite baby bump of the night! Yes..I liked her dress better than Natalie Portman's..I thought instead of the red rose..her pink dress would have looked better w/a black accent of some sort.)
(Let's not forget the guys! R. Patt is always spot on!)
(Seriously??? I don't think I need say more...)
Of course you know I couldn't do a post without mentioning lil' Miss Makayla! She has DEFINATELY been kicking more...or should I say I've been feeling it more..in the past week. Its such a blessing to feel that movement. I've waited for weeks until I could definately know thats what I'm feeling..so I could breath a sigh of relief. I'm so thankful for her!! :-D I've been buying little things here and there for her still and been making some BIG decisions regarding the nursery over the weekend! I can't wait to get it started so I can show everything off to you guys!
With all the pictures..I think today's post is plenty long enough for your reading enjoyment! Hope your having a great monday y'all!!