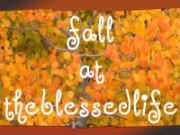 "/>
Today Cait at
The Blessed Life
is having a fall link-up! Head on over and join in..and lets all talk about our favorite season..fall!
Yesterday I did a
post
on some of my fall decor that I've put out this year. I hope you'll hop on over and take a look-see! I love this time of the year..not just because of the fall decorating..but so many other things! I love that the temps start to fall and we can enjoy the cool weather again (I LOVE colder temps..not a hot weather gal at all!)..I enjoy the fall foliage..the comfort of soup graces my dinner table as soon as the first inkling of fall weather arrives, and the best photo ops come at this time of the year! Each year me and Damon head up to Babcock State Park here in WV (its one of the most photographed places in our home state) to take lots of fall pictures. Nothing beats the crisp air and fall leaves at Babcock! So many others are there doing the same thing we are..whether its amateurs (like us) or professionals. We all have the same common theme..try to get the best shot possible!! But, in my opinion, you can't take a bad picture there! God's beauty is
everywhere
to be seen. :-) Some of my favorite pictures taken from there in the past years...

To celebrate the season that is
finally
here..I'm gonna go bake some pumpkin bread!!! Now if only the weather would cooperate (its suppost to be 95 degrees today)!! Here's to praying for some fall weather!