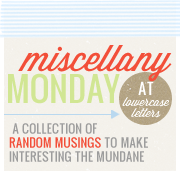 Hello blogland!!!! It seems like forever since I've been reading your blogs and doing a post! Why you may ask? Last week we were on VACATION!!!!! My MTFW was all done in advance (I had to be a little creative..right?) plus I thought it would be a great way for everyone to meet each member of the Green household! Onto some miscellanies for the day!
Since I'm on hubby's laptop..there wont be any pictures posted for the day (sorry!) but I promise to have some up later in the week from our vacation we took in Amish Country, Ohio! We had a GREAT time and what I've been telling everyone..it was hands down the best vacation we've ever had! We needed it!
I'm super excited today cause I'm finally going to start my FALL DECORATING! YAY! I love to decorate for fall (who doesn't?) and I'm excited to add some new items to my home that I came back with while we were vacationing!
Staying on the subject of fall..while we were vacationing and stopped by Hershberger's Farm and Truck Patch..they were wheeling out all the pumpkins!! Oh happy day!!
For anyone interested to know..I picked up my first little fall decor item for the Fall Friendship Swap over at Windy Poplars! Whoever the recipient happens to be..I hope you like little scarecrows!
I came back with so many wonderful finds..I still haven't gotten everything in its place yet! Think handmade blanket basket, tin mail holder, cookie basket, etc!
We are having a custom countertop made out of character hickory to replace that UGLY bar-area in between the living room and kitchen. It should arrive in the mail (hopefully!) sometime next week! EXCITING!
We got to spend some time with our dear Amish friends, Leroy and Mary. You want to talk about a fantastic time!!
And for parting thoughts..having such good friends, whether far or near, is always a true blessing from above! I love the friends I've made thus far on my blog and I hope to meet more out there in bloggyland in the future! I appreciate the comments left last week during my MTFW..I enjoyed reading each one of them. So if your a fan of fall..and want to make a friend ~plus~ get some new fall goodies for your home..head over to Kristin's and join up in the Fall Friendship Swap! This is the last week!