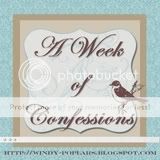 Today I'm talking about my sleep confessions..so here goes!
I have a very different sleep schedule than most people. Hubby works night shifts..so while most are asleep..I'm up doing my cleaning, organizing, blogging, and sometimes even cooking! Its not unusual for me to not go to bed until 4am (gasp).
In the winter months..nothing will do except for flannel sheets. I love them!!!! Nothing like slipping into a nice cozy and warm bed!
Most days I count myself lucky..I get the normal 8 hours of sleep. But there are times when my getting into bed late gets the best of me when I have to get up early for an appointment or something..and as a result go all day on 3 hours or so. Yuck.
I'm one of these people who loves to sleep. I know I shouldn't..but I can't help it..I'd rather be sleeping than doing housework..hehe!
Unlike the winter months when I have quite the array of flannel sheets to choose from my collection..in the summer I only have 2 or 3 sets that I really like to use! Anyone have any good affordable, cotton sheets they like to use in the summer? Where did you buy them?
That about does it for my confessions for the day! On a side note..wanted to ask everyone to pray for us and our area..we were hit with some storms yesterday that knocked out our power (thank goodness we just bought a generator)..but are about to get hit with MORE storms in the next couple of hours. They are talking like they are pretty severe with high winds and hail..please pray for us! Hoping the power gets restored very soon and that everyone is safe along with their homes, etc.
Have a wonderful thursday everyone!!