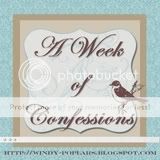 This week over at
Kristin's blog
..we're all 'confessing' this week..and today is one of my favorite subjects..food!! Go on over and hook up..we'd all love to read what you have to confess for the day!
Confession 1:
I just ate a strange combination for a dessert..or at least I thought it might be a bit on the odd side..what was it? Chilled rice pudding and peaches I canned last summer..yummo!
Confession 2:
I love to eat..maybe a little
too
much at times. I need to get a handle on it before I can no longer buy clothes at Walmart..ha!
Confession 3:
The state fair here in our great state of West Virginia is just around the corner!! My favorite part? THE FOOD..its so awesome..and I make a rule every year..I only get to eat this or that one time of the year..so I'm going to and I'm going to enjoy..every..single..morsel. And count down the days to next years fair! Some of my favorite 'go-tos' at our fair...little homemade donuts, calzones, frozen lemonade, and some of the freshest tasting milkshakes I've ever enjoyed!
Confession 4:
When I was younger..there were alot of foods I wouldn't touch. Thankfully I've outgrown alot of that since I've been married and I can't imagine my life now without onions and garlic....and mexican food (with lots of lettuce)!!!!! 20 years ago I would have told you that your completely insane if you told me I'd be eating that "stuff"!
Confession 5:
I have slacked off in the past several months on my weekly menu. I was trying a new meal once a week..you know..a recipe you come across in a magazine..or something recommended by a friend. I really need to get back into that..because it adds such variety in an otherwise sometimes boring weekly menu!
Well there you have it..my confessions for the day!! Hope you'll hop on over to Kristin's and join up in the confession challenge! Hope you've had a great monday!