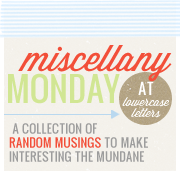 Its monday, time for some miscellany!!
one.
I wanted to send a big THANKS to all who commented on the post I did last week on baby shower game ideas! It truely did help me out alot..even though I am still doing some research on what exactly I want to do for my shower. If you come up with anymore ideas, please feel free to pass them on my way!
two.
We finally joined the 21st century (I guess thats what century it is..?) and bought a flat screen tv over the weekend! Gotta say..I am a fan even though when they first came out I didn't think I'd much care if we had the 'old' type or one of those.
three.
Big discovery made over the weekend..I can eat bananas again!! After starting to suffer with some minor pregnancy related leg cramps last week, I talked to my dr about it on friday when I saw her and she told me to try bananas. When I told her that bananas had been one of those foods that had grossed me out since becoming preggo..she said..try it anyways! So I braved the little yellow monsters once more and to my suprise I'm able to eat them once again! Yay! Now if I can just get past the chocolate ice cream yuck...
four.
As I was in Marshall's on friday, I thought I'd try to find a nice suitable 'something' to put my clothes and stuff in when I have to head to the hospital to have Makayla. I wasn't expecting to be purchasing a designer diaper bag!!!! But thats exactly what I did..and I'm luvin' it..can't wait till I'm using it!!

five.
Don't forget everyone..this week is St. Paddy's Day!!! Hope you have something special in mind to do to celebrate the 'day of the green'! For us, I'm fixing a corned beef and some cabbage and making a pistachio pudding cake for dessert..yum!! I'll put up the recipe in a couple days for the cake, in case any of yall would like to give it a try!!