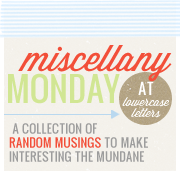 one.
Oh what a weekend around here! And not in a real good way either..there have been several deaths in our community in the past week...all of which are people that we were either related to or knew very well. Pray for those who have lost their loved ones recently.
two.
At least my dr appointment went well on friday! Everything still is looking good..heartbeat is strong and I'm still gaining! That scale is gettin kinda scary to me..I almost don't want to even look when I get on it now..lol! And my dr was able to help us get a problem resolved..whew..one less thing to worry about!
three.
I placed an order with the lovely
Venessa
for some ponytail holders and a bracelet to help her bring baby DLC home. If you've not checked out her blog..head over there now..meet this sweet lady..and help them out if you can!
four.
Anyone else have problems with Target? Don't get me wrong..I am a big fan of Target..but when I went in on friday to purchase Makayla's bassinet..they had none in stock and couldn't give me an idea of when or if they'd get any in. That helps alot...right? So I go online (perhaps I can order it..thinks me) and its NOWHERE on their website!! Isn't that just a bit odd? I did however find another very sweet bassinet and if I'm not able to get the one I originally wanted...this will do nicely...
I couldn't put up a picture..it wouldn't let me for some reason!
five.
Paint has been bought for the nursery!!!! So exciting..I can't WAIT to see it on the walls to see how its going to look! I'm hoping Behr paint lives up to its reputation. I've never tried it before but the guy at Home Depot assured me it met the qualifications I was looking for in paint! The color? Poetic Princess..sounds so cute and girly doesn't it?!