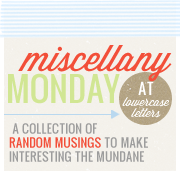 one.
I was able to get some great deals at several stores for baby shower decorations and necessities over the weekend!! I LOVE the pink toile napkins and table cloth I scored at the party store! Who knew they'd make baby shower stuff in pink toile?? Totally goes w/my nursery theme!
two.
I've been shopping around for an overnight bag to take w/me to the hospital when Makayla comes. The one I wanted originally was gone by time I got back to the place that had it. Bummer. But I did find this cutie on ebay....


three.
Miss Daisy is getting more spunk in her every day! She's so cute..but I'm a little afraid to walk her now for fear she'll 'tug' too hard on the leash! So glad we have her home w/us finally!
four.
Prayers for our family..my hubby's aunt passed away this morning..so I imagine this week will be rather busy with helping my MIL (it was her sister) with the funeral arrangements.
five.
Prayers for me this week as well as I have my 30th week appointment on friday! 30 WEEKS!